AGENCY
SEARCH PAGE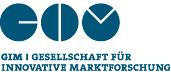 Get in touch with us...
Who to contact?
Godehard Wakenhut
Address:
Goldschmidtstrasse 4-6
69120 Heidelberg, Germany
Telephone:
+49 6221 832810
Fax:
+49 6221 832833
Email:
info@g-i-m.com
Web:
http://www.g-i-m.com
GIM
As a multi-specialist, GIM offers expertise in a wide variety of fields and for different tasks. We offer global research, actionable results and clear recommendations.
Recent News:
DRNO
(Daily Research News Online)
COMPANY OVERVIEW
What we do...
GIM, Gesellschaft für Innovative Marktforschung, started life in 1987 as a small specialist company in Heidelberg and has since grown into one of Germany's leading market research agencies. We offer qualitative and quantitative market research and can thus provide the appropriate research solution for your needs and area of investigation.
In every phase of each project, we optimize our methods on an on-going basis. We always employ the most suitable solution, be it ethnography, focus groups, in-depth interviewing, conjoint, multivariate procedures, tracking-studies, car clinics or research at the POS. Our passion is research and we practice this passion at an international level.
Number of employees:
100-199