Precision Opinion Grows Analytics and Consulting Team
January 25 2017
US-based Precision Opinion, which focuses on government and entertainment industry research, has expanded its Analytics and Consulting team with the appointment of Christopher Brogan as MD, and the promotion of Kevin Unter to Senior Director.

<! pod><! pod>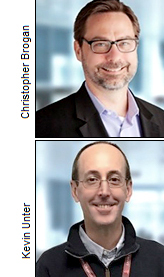 Precision Opinion has more than 700 CATI stations; a focus group facility located in Las Vegas; a full-service panel building, management and online data collection specialist team; and a programming division which specializes in Voxco and CfMC platforms. The firm has conducted research and analysis for the last three presidential campaigns, holds contracts with government research centers, and works with commercial companies. Brogan joins with more than 25 years' consulting and analytics experience. Most recently, he was SVP of Strategy and Analytics for the Hyatt Hotels Corporation, before which he held senior roles at Fontainebleau Resorts and Mandalay Resort Group, having earlier worked for Abt Associates as Data Collection Director, and Voter News Service as Exit Poll Operations Manager.

Unter joined the team a year ago as a Senior Statistician, supporting the firm's online Proprietary Panel Development, Implementation and Management division. Before this, he worked in a business development role at outsourcing specialist RDI Marketing Services; was Department Head, Gerontology, Sociology and Political Science at the University of Louisiana at Monroe; Visiting Professor of Political Science at Arkansas State University, and Director of Research at The CrimeFighters.

In their new roles, Brogan and Unter will drive the integration of multi-mode data collection to enhance the firm's analytics offering, with additional focus on the hospitality industry and community-based 'Quality of Life' analytics. Commenting on the appointments, company President Jim Medick said: 'With Chris and Kevin in these roles, the Precision Opinion Analytics and Consulting Division will become more of a staple in our quality data delivery than a commodity. What these gentleman can bring to the table will change how market research results are currently viewed for the better'.

Web site: www.precisionopinion.com .