Roger Green and Associates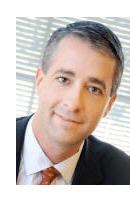 US healthcare marketing research firm Roger Green and Associates (RG+A) has appointed Chris Schneider as Executive Vice President, Client Strategies.

Headquartered in New Hope, Pennsylvania, RG+A conducts research with physicians, consumers, payers and regulators, using proprietary quant and qual methods.

Schneider joins with more than a decade of experience in the global pharma industry. Most recently he was the Global Business Development Director of Roche Partnering, where he directed business assessments of pre-clinical in-licensing M&A, and alliance business development opportunities across several therapeutic categories. Before this, he held various positions at Pfizer.

'Chris strengthens our growing Strategic Consulting team through his diverse experience in pricing and business development, as well as his understanding of brand and business unit marketing and strategy,' states President and CEO, Roger Green.

Prior to his career in bio-pharma, Schneider served in the US Navy as an Aircraft Mission Commander and Avionics Division Officer, as well as serving as Defense Foreign Liaison Officer for the Defense Intelligence Agency.

Web site: www.rogergreen.com .