Research Now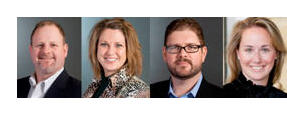 In the US, online panel firm Research Now has made a number of promotions in its Client Development and Corporate Communications teams.

Jason Sheppard moves up from VP of Sales Operations in the Americas to Senior Vice President of Global Sales Operations. His new responsibilities will include overseeing sales operations globally, as well as the firm's Medical Market Research business in the Americas. He previously held various client development roles at TEKsystems.

Jami Pulley becomes Vice President of Client Development, US Southeast & Latin America – she was previously VP of Sales for the US Southern Region. Pullley joined Research Now in 2003, and has more than 10 years' experience in client development and management, both inside and outside the market research industry.

In his new role as Vice President of Client Development, Chris Wallace will continue to support client development in the Americas. He has over 10 years' experience in market research and business intelligence, having previously held positions at BNSF Railway, VHA and Parks Associates. Most recently at Research Now, Wallace served as Director of Client Development.

Lastly, Ashley Harlan has been promoted from Director of Corporate Communications to Vice President of Corporate Communications, overseeing all global internal and external communications for the company. Prior to joining the company in 2006, Harlan held various marketing and management positions at Harvard Business School Ventures, Blockbuster, and Newell Rubbermaid.

Web site: www.researchnow.com .