Neuromarketing Science and Business Association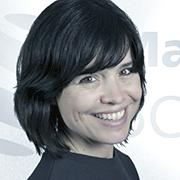 The Neuromarketing Science and Business Association (NMSBA) has appointed Walnut United founder and MD Dr. Cristina de Balanzo as its Chair.

Established in 2012, the NMSBA provides professional support to neuromarketers and neuromarketing scientists, while contributing to the development and implementation of international guidelines and standardization in the neuromarketing discipline.

Balanzo (pictured) set up consumer neuroscience consultancy Walnut in 2012, and sold it to Creston firm Marketing Sciences last year. She was previously Global Head of Neuroscience at TNS, and a Strategic Planner at McCann Erickson.

In her new role, Balanzo will be organising and hosting a series of events entitled BrainyBar, in association with Warc, where the panellists will discuss their experiences of how neuroscience techniques can be applied in a commercial setting. Carla Nagel, founder and Director of the NMSBA, says: 'Cristina has been a pro-active member since the beginning of the NMSBA, so we're incredibly pleased that she has been made the UK spokesperson for our organization. Her BrainyBar series is a great opportunity for everyone interested in the topic of neuromarketing to learn more, and it's exactly the type of thing we encourage regional chairs to do.'

Web site: www.nmsba.com .