Gartner & Forrester Buoyant, Despite Revenue Declines
Technology research giant Gartner has reported a 5% fourth quarter 2009 drop in total revenue to $328.8m, while rival Forrester Research posted a revenue decline of 2% to $61.5m, compared with the same period in 2008.

<! pod><! pod>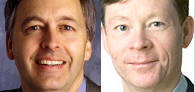 In Gartner's research division, Q4 revenue dropped 3% year-over-year to $195.2m, while for the full year 2009, revenue was down 1% to $752.5m.

The consulting business saw a 17% fourth quarter revenue drop to $81.5m, and full year revenue fell 15% to $286.8m.

The Group's full year 2009 total revenue was $1.14bn, and Gartner is now predicting revenues of between $1.24bn and $1.28bn for 2010.

'During 2009, we maintained research revenue and contract value nearly unchanged from 2008 levels, excluding the impact of foreign exchange,' stated CEO Gene Hall. 'At the same time, our effective cost management enabled us to deliver strong margins and cash flow. The positive momentum in our businesses positions us well to generate double-digit revenue and contract value growth in 2010.'

At Forrester, research revenue dropped 1% to $40.7m during the quarter. Total revenues for the year were $233.4m, compared with $240.9 million for 2008.

Despite the decline in both fourth quarter and full year revenue, Chairman and CEO George Colony said that Forrester's performance beat its plan. 'We met or exceeded our financial targets and ended the year with client and dollar retention approaching pre-recession levels,' said Colony.

For the first quarter of 2010, Forrester is anticipating revenues of $57.5m to $59.5m, and for the full-year $240m to $248m.

According to CFO Michael Doyle, the firm will now be looking to expand its sales force, invest in the infrastructure of the business, and enhance its client-facing technology.

Web sites: www.gartner.com and www.forrester.com .