Iconoculture Founders Leave to Launch New Agency
The founders of US-based market research agency Iconoculture have left to launch a new firm which will study consumer trends in those countries that make up the G-20.

<! pod><! pod>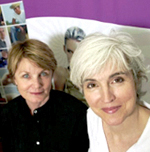 Vickie Abrahamson and Mary Meehan, who founded Iconoculture in 1992, have set up Panoramix Global, to provide an ongoing view of the G-20 consumer - tracking lifestyle and life-stage trends, in order to generate insights and solutions for business growth.

The Minneapolis-based firm has already launched a tracking study called 'Foresights: The G-20 Consumer', which the partners say will provide a 'powerful lens' for identifying future short and long-term brand risks and growth opportunities.

Using a cross-category, cross-demographic filter to collect data for consumer insights, the study identifies consumer shifts in consumption patterns, locates the motivators driving emerging consumer behavior and profiles the demographic groups and categories at the centre of change.

'We're looking for major trends that drive people, culture and business,' explained Abrahamson. 'This is a new decade, and Panoramix represents a new consumer that needs to be understood.'

Web site: www.panoramixglobal.com .