Ipsos and THISDAY Link for Nigerian Election Polls
Ipsos Nigeria has partnered with local news provider THISDAY to conduct political polling in advance of the April 2011 elections. Ipsos says this is the first time a research agency has conducted political polling in the country on such a large scale.

<! pod><! pod>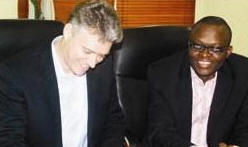 The partnership was signed off by THISDAY MD Eniola Bello and Ipsos CEO Sub-Saharan Africa, David Somers, who have agreed that the polling results will be shared with the international media, to ensure 'full transparency and impartiality'.

Polling will be by means of a national face-to-face random survey, to identify the overall sentiments of Nigerian voters in each of the country's 36 states. A smaller weekly sample of respondents will then be interviewed by telephone in the weeks immediately prior to the election.

Ipsos Nigeria will work with Ipsos MORI in the UK to analyse feedback from the first stage, while South African-based Ipsos Markinor will conduct the CATI fieldwork.

Ipsos Co-President Didier Truchot stated his belief that the partnership with THISDAY will 'accurately predict' the outcome of the Nigerian elections.

Ipsos Nigeria opened earlier this year in Lagos, to service clients in Nigeria and throughout the West and Central African region. This office is the first step in the firm's expansion across Sub-Saharan Africa, and will be followed by the opening of an East African office in Nairobi, Kenya early in 2011.

Web sites: www.ipsos.com and www.thisdayonline.com .