Guilty Verdict in Klaas Jonkheid Trial
In South Africa, Elton Smith has been found guilty of the murder of researcher Dr Klaas Jonkheid last May. His brother Wayne Smith was found not guilty of murder but guilty of being an accessory to murder. Industry colleagues have today been paying tribute to Dr Jonkheid.

<! pod><! pod>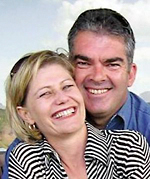 The men, from Erste River, appeared 'unconcerned' and Elton Smith yawned as the judge told them the verdicts, according to www.eyewitnessnews.co.za .

Dr Jonkheid, 48, owner of Johannesburg agency The Consumer Psychology Lab, was found dead in Faure after attending a conference of the Southern African Marketing Research Society (SAMRA) - he had been shot and his body then set on fire. Four men were arrested for the killing almost immediately, and two of them released without charge afterward.

Jonkheid's family yesterday said they were relieved by the verdict and hoped to be able to move on with their lives.

Jonkeid, whose last firm is currently led by his widow Liezel, earlier co-founded marketing services company iD8, and held research and brand management roles at Millward Brown, Cadbury Schweppes and ad agency Lindsay Smithers FCB.

Tributes have been paid today by friends and colleagues. SAMRA's Chair Elsa Thirion-Venter described Jonkheid's death as a 'massive loss to the marketing research industry', adding that his passion and enthusiasm had been an inspiration.

'Klaas was a strategic forward thinker, who also had a great impact on all of those who were privileged to have been students of his,' she said.

Jonkheid was the very first recipient of a SAMRA Award sponsored by The Qualitative Consultancy, for a qual research paper he presented at the annual conference. The firm's founder Jean Green, who is an honorary life member of SAMRA, defined Jonkheid as an 'outstanding qualitative practitioner', adding that the industry 'continues to miss his contributions'.

Online tributes from colleagues to whom he was a mentor and friend say Jonkheid was a 'special human being' who 'loved life and lived every moment to its fullest'.