Former Journalist Hired for Digital Think Tank Launch
In the US, marcoms network MDC Partners has hired journalist Ash Bennington as Director of Strategic Technology and Innovation. Bennington will oversee the launch of MDC Ideas, an internal think tank dedicated to identifying new solutions in social media, digital and business analytics.

<! pod><! pod>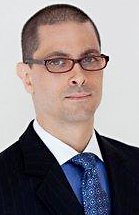 MDC uses insight and analytics to drive returns on marcoms investments for clients in the US, Canada, Europe, and the Caribbean. In December, the firm acquired digital agency Capital, which monitors social media chatter and has a large online panel of shoppers; and sister-company Kenna, which specializes in analysis and insight into consumer buying behavior.

Bennington (pictured) joins from CNBC where he was a journalist and blogger reporting on technology, economics, finance and banking. Before this, he served as Assistant VP and Technical Expert at Credit Suisse and VP of E-Commerce at BB&T.

In his new role, Bennington will act as MDC's 'technology evangelist', in charge of identifying trends and areas for investment across the digital and technology sectors. He will also continue to write for CNBC.com.

'Ash has a unique understanding of the convergence of technology, media, entertainment, telecoms and advertising, and our plan is for him to travel the globe and pursue investment opportunities in these key areas,' explains Chairman and CEO, Miles Nadal. 'His background in business and finance, his understanding of emerging innovations and his ability to effectively communicate these ideas to a wide range of people are an invaluable asset to MDC.'

Web site: www.mdc-partners.com .