Carvalho to Head New Kantar Media Methods Unit
Kantar Media has announced the promotion of Antonio Carvalho to Chief Research Officer, heading up a new London-based Audiences Central Research Unit. He reports to Global Head of Products and Services, John Gill.

<! pod><! pod>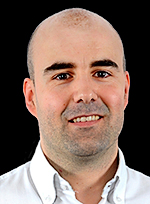 Richard Marks, Global CEO, Kantar Media Audiences, says the new unit 'consolidates and emphasises the central role of [the firm's] research experts' in the era of 'big data' - which requires providers to have the ability to validate, combine and interpret data sets.

Carvalho will oversee the firm's central research activities for PeopleMeters, Portable People Meters (PPMs), Return Path Data, Online and emerging methods including algorithm and modelling approaches to large-scale multimedia data.

He joined the division in 2008 as a Research Manager, providing global research, modelling and methodological expertise. Prior to this, he worked in the Strategic Technologies Division of GlaxoSmithKline, after a spell as a Research Fellow at the University of Oxford, developing novel mathematical modelling algorithms and solving complex data analysis problems. He has a degree in Chemical Engineering from Lisbon Institute of Technology and a PhD in mathematical modelling and data analysis from the University of Bristol.

Says Marks: 'Antonio's research, modelling and methodological expertise gives him the ideal background to lead our dedicated team of researchers and analysts, driving business growth across Kantar Media Audiences' global network.'

Kantar Media is established in more than fifty countries and operates in four global business sectors - Intelligence, Audiences, TGI and Custom. It also includes the companies Compete, Cymfony and SRDS.

Web site: www.kantarmedia.com .