Altria Research Director Disappears
Leyla Namiranian, Director of Marketing and Consumer Research for US firm Altria Client Services has been missing for more than a week from her home in Chesterfield, Virginia.

<! pod><! pod>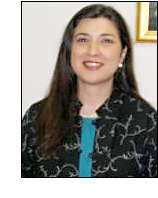 Authorities say 41-year-old Namiranian disappeared last week without notifying friends or colleagues - out of character for a woman described by her ex-husband Babak Namiranian as 'extremely conservative' and considered to be dedicated to her career.

Babak, who remains close to Leyla, told police that Leyla's brother reportedly talked to her on the phone on April 1 and said she was planning to meet up with a contact made online. Babak says his ex-wife never does anything on the spur of the moment: 'Even if she's going to be late for work for two minutes, she calls five times.'

Leyla was last seen three days later, on April 4th, leaving work about 6:30 pm - Police believe she returned home as her car was found there, but she did not go to work the following day. There were no signs of forced entry, of a struggle or of Leyla's having made any plans to leave, although her cellphone and purse were missing.

Chesterfield Police spokesperson, Elizabeth Caroon told CBS 6 News that nothing has been ruled out at this point although Babak Namiranian does not appear to be a suspect in the case.

The firm, a subsidiary of Altria Group Inc., has arranged this week to fly Leyla's father from Italy - where she grew up - to the town as the search continues. The Group was previously named Philip Morris Companies Inc. and is one of the world's largest tobacco corporations, online at www.altria.com .