Strong Quarter for WPP - Less So for Insight
WPP has reported first quarter revenues up 7.4% at constant currencies, to £2.39 bn. Organic revenue growth was 4.0%. However the consumer insight division once again lagged behind with revenues up 3.3% on a constant currency basis, or 1.3% excluding acquisitions.

<! pod><! pod>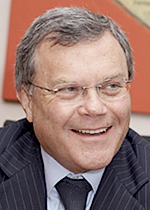 Consumer insight revenues rose to £569m but the division has dropped from 24.9% of group turnover to 23.8% this time last year.

The quarterly trading update said Group first quarter profits and operating margin were above budget and ahead of last year, and the insight performance was at least 'a significant improvement on the last quarter', with TNS Custom showing its strongest like-for-like growth since 2008.

The Group boasted a strong increase in net new business, up $1.346 bn a year previously to $1.855 bn this quarter, and the statement says the pattern of revenue growth in 2012 has started similarly to the full year of 2011, with 'continuing improvement across all sectors and geographies'. Overall performance was in line with projections, and if anything revenue growth was slightly better than budgeted.

North America, with constant currency growth of 4.9% and like-for-like growth of 1.4% was up on the last quarter, but slower than last year; the UK was up 2.5% like-for-like, although advertising and media investment management grew faster than others including consumer insight; western continental Europe also grew like-for-like at 2.5%, with France and especially Greece, Portugal and Spain lagging other countries. Revenue growth was strongest in Asia Pacific, Latin America, Africa & the Middle East and Central and Eastern Europe - up 9.5% like-for-like, with Latin America strongest (up 14.1%) and the BRIC countries over 16% like-for-like.

WPP said almost 31% of its revenues in the quarter came from direct, digital and interactive, up 2 percentage points from the previous year. Headcount rose 2.6% or 2,900 people to 112,969, against an increase in revenues of 4.0%.

As it often does, the firm looks forward to the year's three 'maxi-quadrennial events' - Euro 2012 football, the London Olympics and the US Presidential Elections - and expects them to underpin a good year for the industry.

Web site: www.wppinvestor.com .