IBM Launches On-the-Spot Analytics Solution
IBM has launched the 'Integrated Analytics System', which gives users access to advanced data science capabilities and the ability to work with their data across private, public or hybrid cloud environments.

<! pod><! pod>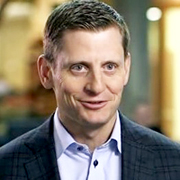 The system comes with several built-in tools, allowing data scientists to develop and deploy their advanced analytics models in-place, directly where the data resides. At the heart of the new system is the IBM Data Science Experience, Apache Spark and the Db2 Warehouse, all of which have been optimized to work together. The Data Science Experience provides a set of tools and a collaborative workspace for data scientists to create new analytic models for use by developers building intelligent applications. According to IBM, the fact that machine learning processing is embedded and therefore data does not need to be imported, reduces the associated wait times for analytics to run and respond, and simplifies the process of evaluating predictive models.

Rob Thomas (pictured), General Manager, IBM Analytics, comments: 'Today's announcement is a continuation of our aggressive strategy to make data science and machine learning more accessible than ever before and to help organizations begin harvesting their massive data volumes - across infrastructures - for insight and intelligence'.

Web site: www.ibm.com .