New Funds for Customer Experience Platform Chattermill
London-based analytics software firm Chattermill has closed a £600k round of seed funding, with which to invest in technology and add data scientists, engineers and business developers to its team of ten.

<! pod><! pod>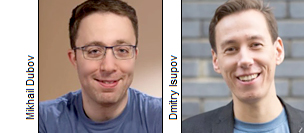 Founded in 2015 by software engineer Mikhail Dubov and former TNS researcher / MM-Eye data analyst Dmitry Isupov, Chattermill uses artificial intelligence to analyse what customers are talking about and how they feel about their experiences. The platform combines machine learning with an understanding of a company and its customers, and integrates with tools already used by that business - such as SurveyMonkey, Zendesk, TypeForm or Salesforce. It then aggregates every piece of feedback such as Net Promoter Score surveys, reviews, support tickets and social media, for an overall analysis of customer experience.

Chattermill is backed by Entrepreneur First, Avonmore Developments and angel investors including Jeff Kelisky, CEO of crowdfunding platform Seedrs. Together with an earlier round last year from the same group of investors, funding raised now totals £935k. Dubov comments: 'We're thrilled to have the ongoing support of such a great list of investors. We've been lucky enough to help some of the world's most customer centric businesses see genuine value by understanding their users at scale. Our platform not only challenges their assumptions, but gives them incredibly detailed insight in real-time, at a fraction of the cost of traditional customer experience research'.

Web site: www.chattermill.io .