Advertiser Perceptions Founders Change Roles
US-based research firm Advertiser Perceptions has named co-founder Randy Cohen Chief Executive Officer from January 1st 2018. He replaces his co-founder Ken Pearl, who moves into the role of Executive Chairman.

<! pod><! pod>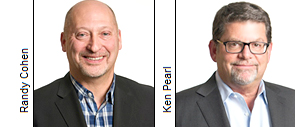 New York-based Advertiser Perceptions specializes in determining, analyzing and communicating what advertisers think, including their plans, opinions and motivations. The firm also claims its proprietary panel of media decision-makers is one of the largest in the world.

Cohen, who will expand his existing role of President and COO, has a 40-year career in management positions in advertising, media and technology; working in strategic planning and consumer ad research at Grey Advertising, and spending a decade at Ziff Davis where he directed research and marketing. From January, Pearl will shift his focus to accelerating growth through business development, alliances and partnerships with companies and organizations serving the ad industry. He will continue to oversee the firm's internal marketing and finances.

Commenting on the changes, Pearl said: 'As I focus on new business development and building our industry alliances and partnerships, I am delighted that Randy - our current President, COO, and my partner in running Advertiser Perceptions business since we founded the company sixteen-years ago - has agreed to assume the duties of Chief Executive Officer. This move ideally positions the business to continue profitably growing our core business into the future'.

Web site: www.advertiserperceptions.com .