Major Partnership for Cint and Syno
Insight exchange and tech platform Cint has announced a strategic partnership with data platform company Syno International, adding to the former's presence in APAC and EMEA, and to the survey audience available for clients of both firms.

<! pod><! pod>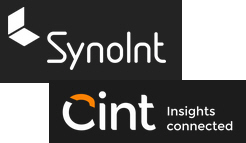 Cint's Sample Management Platform is based around the Insight Exchange panel marketplace - connecting users with more than 1,500-panel providers worldwide - and facilitates sample procurement and fulfilment, and panel management functions. Its new partner Syno is based in Northern Europe with offices in Europe and Asia, and offers simplified data collection, processing and reporting for clients including MR agencies, management consultants, media agencies and publishers. It recently opened an office in London, bringing in former Cint Employee Allan Shaw as UK Managing Director.

Under the terms of the partnership, Syno will build the majority of its products and services using Cint's platform and tools, including its Cint Connect offering. These will include tools for measuring online ad effectiveness and campaign planning, custom built research panels with local incentive options, an international omnibus service and large scale integrations with media agencies, publishers, DMPs and DSPs for maximizing the value of first-party data assets. Cint will use Syno as a professional services partner in EMEA and APAC offering 'wrap-around' complementary products and services.

Syno CEO Jokke Nurminen worked at Cint before taking up his current role, and says the two companies have been building a close relationship over the past 12 months. He comments: 'Cint provides unmatched technology that I have an intimate experience with as a previous employee and now as a partner... By incorporating Cint's underlying technology into our platform, we are able to scale quickly, obtain global reach, add more DMP's and DSP's to our data cloud and provide great solutions to our customers'. Cint COO Richard Thornton says the deal brings together 'people and technology that complement one another... Syno offers agile technology that adds immense value to market research data. Similarly, Cint is transforming how marketers and researchers gather data for insights'.

Already this year Cint has created a global enterprise solutions team, led by EVP Greg Dunbar, appointed Lottie Saks as CFO, launched in Munich, and added Nicholas Antram as SVP for the Asia region, based in Tokyo.

Web sites are at www.cint.com and www.synoint.com .