Cint Buys Tech-Driven Sample Provider P2Sample
Insight exchange and sample management platform Cint has acquired US-based P2Sample. Terms of the deal have not been disclosed.

<! pod><! pod>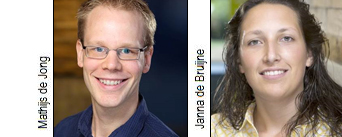 P2Sample boasts an active panel of more than 60 million members, based in more than 150 countries. Claiming to feature the industry's only AI-driven fraud detection and respondent engagement systems, P2Sample's technology works with a wide variety of methodologies, including traditional surveys; neuroscience and behavioural approaches; and online qualitative and video studies. In addition, the company's fully-automated platform programmatically integrates with hundreds of sample suppliers and allows management of proprietary panels.

Cint says the buy gives it the benefit of P2Sample's more than 200 supplier relationships; while integrating the technologies will give it programmatic access to sample demand and supply, over 100 API integrations, and advanced AI-based fraud detection capabilities.

P2 co-founders CEO Mathijs de Jong and COO Janna de Bruijne will remain in senior leadership roles in the combined entity, while joining the global management team, and P2's employees will also join Cint. The two organisations will operate for the moment as separate entities and will be brought together under the Cint Group umbrella by the end of 2019. In order to preserve its 'supplier agnostic' model, Cint will divest the two P2Sample proprietary panel assets Points2Shop and SurveyRewardz.

Tom Buehlmann, CEO of Cint, comments: 'Cint and P2Sample have a strong shared culture and are two wonderfully complementary businesses. This acquisition creates a global sampling powerhouse with an enormous reach that will provide clients with data they can trust, rock solid dependability and the peace of mind of a partner who is constantly innovating. Together, we are superbly poised to rise to the challenges of the digital age in the market research space'.

Web sites: www.cint.com and www.p2sample.com .