Innerscope Founder Dr. Carl Marci Leaves Nielsen
Nielsen's Chief Neuroscientist Dr. Carl Marci has left the company to join digital health tech company CompanionMX as its Chief Medical Officer.

<! pod><! pod>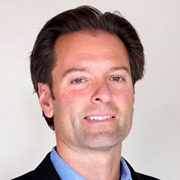 Marci (pictured) is the co-founder of Innerscope, which combined biometrics, neurometrics and psychometrics with its own proprietary software, to help understand consumer behavior, and to measure and analyze audience engagement with any media stimulus. In 2015, the firm was acquired by Nielsen, which merged it with its brain specialist company NeuroFocus under the Nielsen Consumer Neuroscience brand. In his role there as Chief Neuroscientist, Marci integrated multiple technologies associated with measuring non-conscious processing as they relate to consumer behavior and decision making.

At CompanionMX, Marci will focus on commercializing the company's remote mental health monitoring platform, The Companion System, helping deliver measures to improve clinical support and patient outcomes. He will also lead and manage ongoing clinical research to expand the capabilities of the Companion System for mobile mental health.

Sub Datta, CEO of CompanionMX, comments: 'Dr. Marci's extensive mental health experience gives us critical knowledge on how we can best integrate the Companion platform within the healthcare system. As an experienced clinician and entrepreneur, he'll help strengthen our roots in the mental health community to achieve our mission of helping clinicians provide proactive, personalized and preventive care to their patients suffering from mental health issues.'

Web site: www.companionmx.com .