Mood Mapping Patent for HCD
New Jersey-based MR and applied consumer neuroscience company HCD Research has been awarded a patent for a new approach to mapping mood, product marketability and promotion, through physiological measures.

<! pod><! pod>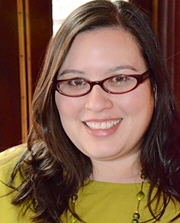 U.S. Patent No. 10,430,810 includes the ability to visualize and match consumer neuro-physiological response to products, product attributes and communications to ensure marketability and brand harmonization. HCD demonstrated use of the method at the 13th Pangborn Sensory Science conference in Edinburgh, to measure and link response to a fine fragrance perfume, and to an ad for it.

Michelle Niedziela (pictured), HCD's VP of Research & Innovation comments: 'The large majority of new product introductions fail in market. Mood mapping technology helps to clearly demonstrate the consumer emotional experience to both communications and products. Creating a cohesive emotional impact in both the product experience and the communication increase market success and consumer delight'.

Web site: www.hcdi.net .