Rapid Growth for Top Brands in 2007
The combined value of the world's top 100 brands – headed by Google – rose by 21% last year, according to the third annual BrandZ ™ Ranking from ROI specialist Millward Brown Optimor.

<! pod><! pod>The report, which identifies the world's most powerful brands as measured by their dollar value, says companies that own brands in the BrandZ Top 100 have 'significantly outperformed the stock market when compared to the S&P 500'.

Total value climbed from $1.6 trillion in 2007 to $1.94 trillion in 2008, more than twice the increase of the previous year.

Google leads comfortably and for the second year running with a brand value of $86.1bn, while GE and Microsoft battle for second place with $71.4bn and $70.8bn respectively. The top British Brand is Vodafone, at no.11, value $36.9bn. China Mobile and Nokia are the only non-US-based brands in the top ten.

Among the notable trends spotted by the authors:
Chinese brands continue to get stronger. The seven brands in the Top 100 from mature Asian economies Japan, Korea, and Hong Kong grew by a moderate 7% on average (total $111bn), while the value of the four Chinese brands in the list - China Mobile, Bank of China, China Construction Bank and ICBC – leapfrogged them with a 51% increase to $124bn.
The other BRIC economies – Brazil, Russia and India – are also rising rapidly, with Russian-based mobile operator MTS the first from its country to enter the ranking at number 89, and the authors singling out Russia's Lukoil, Beeline, and Baltika, India's ICICI and Brazil's Brahma, Petrobras, and Bradesco as brands to watch.
The technology sector, including mobile operators, comtinues to boom, accounting for 28 of the top 100 and outperforming all other categories with value growth of $187.5bn, more than half the total
'This year's brand ranking demonstrates the importance of investing in brands, especially in times of market turmoil. Strong brands generate superior returns and protect businesses from risk' says Millward Brown Optimor CEO Joanna Seddon. Eileen Campbell, Global CEO of Millward Brown, comments: 'Particularly in a challenging global economy, we were delighted to see such high growth, reconfirming our assertion that sustained marketing support is a winning strategy, even in tough business conditions.'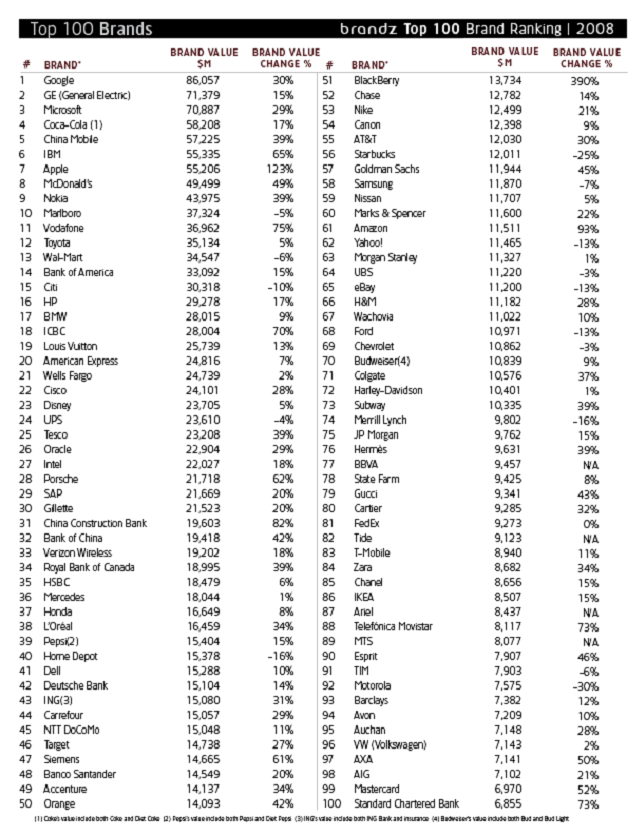 BrandZ is the only brand ranking based on primary research, and also integrates data from WPP's BrandZ database and market performance metrics and financial data from Datamonitor and Bloomberg respectively. The BrandZ study has interviewed more than one million consumers globally and covers 50,000 brands worldwide.

The complete report with category and regional breakdowns and additional analysis is available online at www.millwardbrown.com/mboptimor, www.brandz.com and at www.ft.com

Millward Brown, part of Kantar within WPP, has more than 70 offices in 44 countries and is online at www.millwardbrown.com .