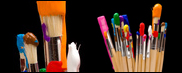 RECENT NEWS ITEMS


Co-creation

<! news>

Face Moves McNaughton to Lead New US Ops - 17/6/11
UK-based co-creation and planning agency Face is opening an office in New York later this month, and has relocated its most senior Research Director Philip McNaughton to lead and develop US operations.
>> More

<! news>

Promise Hires Leader for Communities Unit - 15/6/11
London-based co-creation agency Promise Group has appointed former FreshMinds Head of Consumer Research Phil Burgess as Consultancy Director for its Promise Communities division.
>> More

<! news>

Senior Appointments for Promise - 23/5/11
In London, co-creation agency Promise has appointed two new Executive Directors, Richard Bowden-Doyle and Ed Herten, to work with the company both in the UK and the US.
>> More

<! news>



View all related news items

What's Included?
A market strategy that aims to generate value for both firms and customers by involving both in the generation of new ideas. It differs from the traditional polarized active company - passive consumer market construct of the past. It can be done online via communities or as super focus groups, or as home visits. When done off-line it is, like focus groups, dependent on the quality of the recruitment.
FEATURES
Co-creation: evolution or revolution? by Dr Nick Coates - Research Director, Promise
CURRENT JOBS IN THIS SECTOR
Qualitative Research Manager City of London
Strategic Account Director Central London
Managing Director / Partner Shanghai, China
Strategy Consultant - Qualitative Brand Consultancy London
(Senior) Research Manager – Online Customer Consultants – Quant Central London
Consultant, Co-Creation Central London


>> View all jobs on MrWeb

<! img src="insight-banner.gif" align="right" border="0" alt="InsightExpress"><! img src="populus-bnr.gif" border="0" alt="Populus">
FEATURED SUPPLIERS
<! featsupp>

Sense Worlwide

Sense Worldwide is a creative strategic consultancy which for ten years has provided insight, innovation and strategy for brands and business. We help our clients do the right thing by understanding people. www.senseworldwide.com

Promise

Our experience shows that the most powerful way of growing businesses and brands is by involving the people who stand to benefit most: customers and their staff. We have developed a range of techniques and processes to do this. www.promisecorp.com
<! featsupp>
ALL SUPPLIERS
2cv - BDRC Continental - BrainJuicer - Brand Genetics - Campbell Keegan Ltd - Consensus Research - Consensus Research - DVL Smith - eYeka - Face - Firefish - Firefly Millward Brown - Freshminds - GfK NOP - ICM - Jigsaw - JRA - MMR - Perfect Crowd - Promise - River - Sense Worldwide - Synovate - TNS - Toluna - Verve
Please
email
if there are any relevant agencies you don't see listed here.