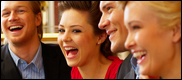 RECENT NEWS ITEMS


Custom Panels and Communities

<! news>

ICM Direct Expands Call Centre, Adds B2B Nous

- 21/5/13



In the UK, fieldwork division ICM Direct has expanded its Bedford Call Centre by 20 percent, responding to 'increased client demand for fieldwork services'. >> More

<! news>

OnePoll Buys Response Fusion

- 17/5/13



In the UK, OnePoll, which specialises in conducting online polls for PR purposes, has acquired London-based opinion polling agency Response Fusion for 'a six-figure sum'. >> More

<! news>

Two Senior Hires for Passenger

- 15/5/13



US-based online community specialist Passenger has hired consumer insights expert Chandra Chaterji as Director of Solutions Development, to lead development of new approaches and methodologies for the company. The firm has also appointed Whitney Miller as Director of Insights. >> More

<! news>



View all related news items

What's Included?
These combine the ease and speed of a panel with the targeting of a specific group. Specialist firms offer to help clients turn their customer list, marketing database or existing online community into a panel of regular respondents. (A separate section will be launched for firms which scan more general online communities and analyse comment and sentiment)
FEATURES
CURRENT JOBS IN THIS SECTOR

FEATURED SUPPLIERS
<! featsupp>

MarketTools Inc.

MarketTools is the leader in Customer Insight Management solutions that help the world's market leaders make better businesses decisions using best-in-class insight and feedback platforms, quality-assured global panels, and custom research. www.markettools.com

Tpoll

Tpoll offers a portfolio of proven solutions which put customers at the heart of your business, including customer panels, research panels, customer journey tracking and bespoke online research solutions. www.tpoll.com

EasyInsites

An exciting new research agency focused on offering unique technologies and access, to help clients conduct research in a far easier and more cost effective manner. www.easyinsites.com

Vision Critical

Our interactive surveys, discussion forums and 3D environments provide interactive research solutions to our clients allowing them immediacy and clarity of insight. www.visioncritical.com

Verve

Verve is the specialist in customer advisory panels and online brand communities for research, marketing and customer care. www.addverve.com

FreshMinds Research

A full service agency offering bespoke research to clients from a broad range of sectors. Twice named 'Agency of the Year' at the Research Excellence and Effectiveness Awards. www.freshminds.co.uk/research
<! featsupp>
ALL SUPPLIERS
Please
email
if there are any relevant agencies you don't see listed here.