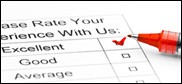 RECENT NEWS ITEMS


DIY Software

<! news>

16/3/18

US-based experience management solutions firm Qualtrics has launched operations in Poland, opening a new office in Kraków which will serve as the company's EMEA engineering center.

More

.

<! news>

16/3/18

In London, tech-enabled customer insights platform Streetbees has raised $12m in a Series A round of funding, which it will use to further develop its Always On machine learning technology and expand its UK and US teams.

More

.

<! news>

13/3/18

In the UK, Virgin Media Chief Marketing Officer Kerris Bright has been hired by the BBC for its newly created role of Chief Customer Officer, with a seat on the BBC Executive Committee. She will join in the summer, reporting to Deputy Director-General Anne Bulford.

More

.

<! news>



View all related news items

What's Included?
A growing number of suppliers offer software which enables users with or without market research knowledge to set up, run and analyze online surveys. We include everything from simple one- or two-question polls to relatively complex applications widely used by MR professionals and will cover software, techniques and of course the inevitable debate over their value.
FEATURES
Productive Disruption: by Matt Dusig, Co-Founder and CEO of uSamp
One Size Fits Many by Sascha Theismann, MD Surveypark, Globalpark
Power to the People by Andrew Jeavons - EVP, Survey Analytics
Man Up! The Trojans are at the Gate by Jerome Sopocko - Founder, Askia
CURRENT JOBS IN THIS SECTOR
Director, Analytic Consulting Lisle, IL, USA
Survey Methods and Sampling Consultant London
Reporting and Dashboard Manager – Global Consumer Clientside London
Senior Dimensions Specialist - Top Agency London
Project Manager - Online Research West London
Project Manager – Field and Tab Central London


>> View all jobs on MrWeb

<! img src="insight-banner.gif" align="right" border="0" alt="InsightExpress"><! img src="populus-bnr.gif" border="0" alt="Populus">
FEATURED SUPPLIERS
<! featsupp>

Zoomerang

Since 1999, Zoomerang has provided a powerful, self-service alternative for conducting accurate comprehensive online surveys with a minimum of cost and effort. www.zoomerang.com

researchkit

Providing easy access to online tools and panel for the busy researcher.www.researchkit.co.uk
<! featsupp>
ALL SUPPLIERS
Ask Your Target Market - CINT - Loop11 - Market Tools - Openpanels - Questionpro - Skuuber - SurveyGizmo - SurveyMonkey - Zoomerang
Please
email
if there are any relevant agencies you don't see listed here.