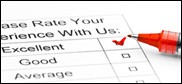 RECENT NEWS ITEMS


DIY Software

<! news>

MR Industry Growth at Highest Level Since 2010

- 22/9/17



Last year saw the MR industry experience its highest level of growth since 2010, according to the latest study by international association ESOMAR. >> More

<! news>

Confirmit Partners to Add SMS Options

- 15/9/17



Online survey pioneer Confirmit has announced a partnership with mobile messaging firm Infobip, offering enhanced international SMS capabilities and coverage to those engaged in research, customer experience and employee engagement programmes. >> More

<! news>

LivingLens / Cello Health Insight in Two-Year Deal

- 11/9/17



UK-based video data mining and analysis specialist LivingLens has signed a two-year agreement to provide Cello Health Insights with video capture and analytics services. >> More

<! news>



View all related news items

What's Included?
A growing number of suppliers offer software which enables users with or without market research knowledge to set up, run and analyze online surveys. We include everything from simple one- or two-question polls to relatively complex applications widely used by MR professionals and will cover software, techniques and of course the inevitable debate over their value.
FEATURES
Productive Disruption: by Matt Dusig, Co-Founder and CEO of uSamp
One Size Fits Many by Sascha Theismann, MD Surveypark, Globalpark
Power to the People by Andrew Jeavons - EVP, Survey Analytics
Man Up! The Trojans are at the Gate by Jerome Sopocko - Founder, Askia
CURRENT JOBS IN THIS SECTOR
Director, Analytic Consulting Lisle, IL, USA
Survey Methods and Sampling Consultant London
Reporting and Dashboard Manager – Global Consumer Clientside London
Senior Dimensions Specialist - Top Agency London
Project Manager - Online Research West London
Project Manager – Field and Tab Central London


>> View all jobs on MrWeb

<! img src="insight-banner.gif" align="right" border="0" alt="InsightExpress"><! img src="populus-bnr.gif" border="0" alt="Populus">
FEATURED SUPPLIERS
<! featsupp>

Zoomerang

Since 1999, Zoomerang has provided a powerful, self-service alternative for conducting accurate comprehensive online surveys with a minimum of cost and effort. www.zoomerang.com

researchkit

Providing easy access to online tools and panel for the busy researcher.www.researchkit.co.uk
<! featsupp>
ALL SUPPLIERS
Ask Your Target Market - CINT - Loop11 - Market Tools - Openpanels - Questionpro - Skuuber - SurveyGizmo - SurveyMonkey - Zoomerang
Please
email
if there are any relevant agencies you don't see listed here.