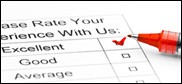 RECENT NEWS ITEMS


DIY Software

<! news>

17/11/17

US-based mobile-first research tech company MFour has hired former Instantly director Carl Nielson as Senior Solutions Executive. In addition, Ayelet Germanski joins as Senior Project Manager, and Nicole Phan as User Experience Designer.

More

.

<! news>

16/11/17

US-based online survey specialist SoGoSurvey has launched a customer experience version of its software, to help businesses measure and explore the relationships between customer satisfaction, customer effort, and customer loyalty.

More

.

<! news>

15/11/17

Manchester, UK-based agency Join the Dots has launched a photo augmentation tool called 'Caption', which uses a selfie and comment format similar to that used by image messaging app Snapchat.

More

.

<! news>



View all related news items

What's Included?
A growing number of suppliers offer software which enables users with or without market research knowledge to set up, run and analyze online surveys. We include everything from simple one- or two-question polls to relatively complex applications widely used by MR professionals and will cover software, techniques and of course the inevitable debate over their value.
FEATURES
Productive Disruption: by Matt Dusig, Co-Founder and CEO of uSamp
One Size Fits Many by Sascha Theismann, MD Surveypark, Globalpark
Power to the People by Andrew Jeavons - EVP, Survey Analytics
Man Up! The Trojans are at the Gate by Jerome Sopocko - Founder, Askia
CURRENT JOBS IN THIS SECTOR
Director, Analytic Consulting Lisle, IL, USA
Survey Methods and Sampling Consultant London
Reporting and Dashboard Manager – Global Consumer Clientside London
Senior Dimensions Specialist - Top Agency London
Project Manager - Online Research West London
Project Manager – Field and Tab Central London


>> View all jobs on MrWeb

<! img src="insight-banner.gif" align="right" border="0" alt="InsightExpress"><! img src="populus-bnr.gif" border="0" alt="Populus">
FEATURED SUPPLIERS
<! featsupp>

Zoomerang

Since 1999, Zoomerang has provided a powerful, self-service alternative for conducting accurate comprehensive online surveys with a minimum of cost and effort. www.zoomerang.com

researchkit

Providing easy access to online tools and panel for the busy researcher.www.researchkit.co.uk
<! featsupp>
ALL SUPPLIERS
Ask Your Target Market - CINT - Loop11 - Market Tools - Openpanels - Questionpro - Skuuber - SurveyGizmo - SurveyMonkey - Zoomerang
Please
email
if there are any relevant agencies you don't see listed here.