AGENCY
SEARCH PAGE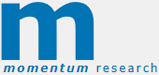 Get in touch with us...
Who to contact?
John Habershon
Address:
45 Honeywell Road
London SW11 6EQ
Telephone:
+44 (0)20 7223 0380
Fax:
Email:
johnhabershon@momentumresearch.co.uk
Web:
https://www.momentumresearch.co.uk
Momentum Research & Marketing
Recent News:
DRNO
(Daily Research News Online)
COMPANY OVERVIEW
What we do...
We specialise in the analysis of non-verbal communication using video, to give added meaning to respondents' verbal responses.
This means our qualitative research has more power to reveal emotions, thoughts and attitudes.
Please see our Web site for more details.
Number of employees:
1-4