AGENCY
SEARCH PAGE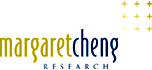 Get in touch with us...
Who to contact?
Margaret Cheng
Address:
10 Ridge Road
London N8 9LG
Telephone:
020 8340 5216
Fax:
020 8347 8909
Email:
margaret@cheng.co.uk
Web:
https://www.cheng.co.uk
Margaret Cheng Research
Recent News:
DRNO
(Daily Research News Online)
COMPANY OVERVIEW
What we do...
Margaret Cheng is an independent consultant specialising in IT and Telecoms, business-to-business research. I have over 20 years experience in the industry, including 5 as Head of MR for BT. I offer research consultancy and project management, working with selected associates and agencies when necessary. I specialise in customer satisfaction measurement, new product and service development and concept testing. Please visit my website for further information about projects and clients.
Number of employees:
1-4