AGENCY
SEARCH PAGE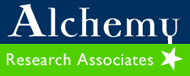 Get in touch with us...
Who to contact?
John Shepherd
Address:
20 Bond Street
Wakefield, West Yorkshire, WF1 2QP
Telephone:
01924 382863
Fax:
01924 382864
Email:
john.shepherd@alchemyresearch.co.uk
Web:
https://www.alchemyresearch.co.uk
Alchemy Research Associates Ltd
Market research and analysis, including qualitative and quantitative techniques, across consumer, professional, business-to-business and social sectors.
Recent News:
DRNO
(Daily Research News Online)
COMPANY OVERVIEW
What we do...
Alchemy is all about 'chemistry', the magical process of turning base metal into gold. Alchemy Research is all about 'commercial chemistry' ...
Customer chemistry: Exploring behaviour and motivations.
Client chemistry: Understanding/committing to your needs.
Team chemistry: Vastly experienced (ie, sectors/methods).
We don't have a magic formula, but we can turn research into nuggets of commercially-actionable insight!
Number of employees:
1-4