AGENCY
SEARCH PAGE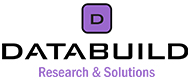 Get in touch with us...
Who to contact?
Kathryn Smith
Address:
21 Graham Street
Birmingham, West Midlands, B1 3JR
Telephone:
01216871144
Fax:
01216871155
Email:
research@data-build.co.uk
Web:
https://www.data-build.co.uk
Databuild Research and Solutions Ltd
Databuild specialises in research for government and the public sector. We help our clients understand the needs and priorities of their target audiences, to develop programmes and to evaluate the impact of their work.
Recent News:
DRNO
(Daily Research News Online)
COMPANY OVERVIEW
What we do...
Our clients work to achieve their policy objectives through influencing the behaviour of consumers or organisations. We use market research techniques to help them:
•Understand audiences' needs and priorities, what are the drivers to the desired behaviours and what are the obstacles, how government can influence them and what products or services will be most effective?
•Evaluate the impact of programmes and the extent to which they have helped towards the achievement of the policy objectives
•Assess user satisfaction and identify improvements to customer service
•Investigate stakeholders' views
We offer both qualitative and quantitative research and take a unique approach to integrating research techniques to provide clients with a high level of insight and understanding.
Number of employees:
20-49