AGENCY
SEARCH PAGE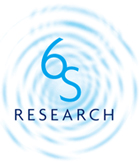 Get in touch with us...
Who to contact?
Martin Reed
Address:
Teleware House
York Road, Thirsk, North Yorkshire, YO7 3BX, UK
Telephone:
01423 860644 / 07702 838770
Fax:
Email:
info@6sresearch.com
Web:
https://www.6sresearch.com
6S Research
6S is a dedicated Qualitative Insight Consultancy delivering Clear & Practical Guidance to help Your Business Reduce Risk.
Recent News:
DRNO
(Daily Research News Online)
COMPANY OVERVIEW
What we do...
After 25 years experience working with a host of leading brands we offer:
Quality Research & Insights
Actionable & Effective Business Decision Guidance
Dedicated, Enthusiastic & Inspired Consultants
Transparency, Responsiveness & Flexibility
Real value for Money
We provide clear Strategic & Tactical Direction with Bespoke Tailor Made Solutions. At 6S, Directors are hands-on with all projects driving quality throughout.
Number of employees:
1-4