AGENCY
SEARCH PAGE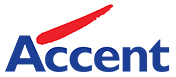 Get in touch with us...
Who to contact?
Rob Sheldon
Address:
Chiswick Gate
598 - 608 Chiswick High Road, London, W4 5RT
Telephone:
020 8742 2211
Fax:
020 8842 1991
Email:
INFO@ACCENT-MR.COM
Web:
https://www.accent-mr.com
Accent
Recent News:
DRNO
(Daily Research News Online)
COMPANY OVERVIEW
What we do...
Accent is an award-winning full service market research agency handling major quantitative and qualitative surveys for high profile clients in the public and private sector. Accent has been a leading supplier of transportation research for the past 20 years and is the market leader in stated preference research. Accent has a highly skilled and experienced team with offices in London, Edinburgh and Bristol.
Number of employees:
20-49