AGENCY
SEARCH PAGE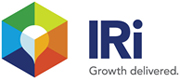 Get in touch with us...
Who to contact?
Dan Finke
Address:
1 Arlington Square
Downshire Way, Bracknell, Berkshire RG12 1WA
Telephone:
01344 746000
Fax:
01344 746001
Email:
dan.finke@iriworldwide.com
Web:
https://www.iriworldwide.co.uk
IRI
Recent News:
DRNO
(Daily Research News Online)
COMPANY OVERVIEW
What we do...
Information Resources Inc.(IRI) is the leading global provider of consumer, shopper and market insights for the consumer packaged goods, retail and healthcare industries. Only IRI offers the unique combination of integrated market and shopper information, automated analytics and predictive insights, innovative technology and domain expertise.
Number of employees:
100-199