AGENCY
SEARCH PAGE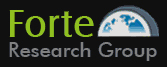 Get in touch with us...
Who to contact?
Chris Daniels
Address:
Suite 150
72 Great Titchfield Street, London, W1W 7QW
Telephone:
0207 0787 7461
Fax:
Email:
info@forteresearchgroup.com
Web:
https://www.forteresearchgroup.co.uk
Forte Research Group
A custom marketing research firm specializing in brand communications specifically advertising and packaging.
Recent News:
DRNO
(Daily Research News Online)
COMPANY OVERVIEW
What we do...
We are creative problem solvers with deep experience in research, marketing and branding. Our fundamental objective is to provide research-based consultancy, offering not just data, but conclusions/implications to lead to understanding. Additionally, we provide recommendations to improve the effectiveness of the execution and learning for future campaigns.
Number of employees:
1-4