AGENCY
SEARCH PAGE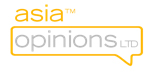 Get in touch with us...
Who to contact?
Neil Cary
Address:
Yew Tree House
Lewes Road, Forest Row, East Sussex, UK, RH18 5AA
Telephone:
01342 824656
Fax:
Email:
neil@asiaopinions.com
Web:
https://www.asiaopinions.com
Asia Opinions
Asia Opinions specialise in online research services. We offer survey scripting solutions for conducting online surveys, and we provide direct access to consumer panels in Asia and other parts of the world.
Recent News:
DRNO
(Daily Research News Online)
COMPANY OVERVIEW
What we do...
Asia Opinions provides a range of innovative market research services and tools to support organisations focus on market opportunities in Asia.
We offer a choice of self serve research tools, sample provision and research consultancy services. If you need to conduct market research in Asia you have come to the right place.
We specialise in providing market research online, including consumer surveys with online panels, online opinions polls, and we have developed an easy to use online survey tool for our clients to conduct their own online surveys.
Number of employees:
1-4