AGENCY
SEARCH PAGE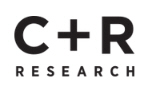 Get in touch with us...
Who to contact?
Address:
150 North Michigan Ave. (34th Floor)
Chicago, IL 60601, USA
Telephone:
312.828.9200
Fax:
312.527.3113
Email:
info@crresearch.com
Web:
https://www.crresearch.com
C+R Research
C+R Research, a full-service marketing insights agency, is known for designing innovative custom research methodologies and high-quality analytical insights.
Recent News:
DRNO
(Daily Research News Online)
COMPANY OVERVIEW
What we do...
C+R Research designs innovative, custom research methodologies, high-quality analytical insights and delivers senior-level attention throughout projects. We offer customizable techniques for traditional/online qualitative, quantitative, mobile and community-based research. We're experts in youth and family, Latino and multicultural consumer segments. Our shopper insights experts can marry consumer attitudes with actual behavioral data from retail receipts through our partnership with InfoScout.
Number of employees:
100-199