AGENCY
SEARCH PAGE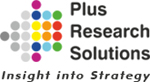 Get in touch with us...
Who to contact?
Serra Bozkurt,MA,AMRS- Director
Address:
Barbaros Bulvari
Uygur Is Merkezi, No:102, D:7/3, Zincirlikuyu, Besiktas, Istanbul 343340, Turkey
Telephone:
+90 212 337 36 73
Fax:
+90 212 337 36 10
Email:
info@plusrsolutions.com
Web:
https://www.plusrsolutions.com
Plus Research Solutions
Plus Research Solutions (PRS) is an independent, dynamic, creative market research consultancy based in Istanbul, providing customised solutions to healthcare clients.
Recent News:
DRNO
(Daily Research News Online)
COMPANY OVERVIEW
What we do...
PRS provides consultancy that adds value to strategic decision making for healthcare brands.
Our solutions cover the brand's life cycle from pre-launch to maturity.
We cover the following sub-sectors; Prescription Medicines, Consumer Health & Nutritionals, Medical Devices&Diagnostics and Healthcare Providers.
We approach each brief with fresh enthusiasm and because we are independent we can provide a truly bespoke service.
We are passionate about developing healthcare brands by combining research solutions and strategic consultancy.
Number of employees:
1-4