AGENCY
SEARCH PAGE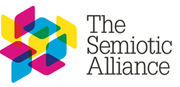 Get in touch with us...
Who to contact?
Greg Rowland
Address:
172 COURT LANE
Telephone:
+44 (0)208 693 1413
Fax:
+44 (0)208 693 1854
Email:
greg@semiotic.co.uk
Web:
https://www.semiotic.co.uk
Greg Rowland Semiotics
Recent News:
DRNO
(Daily Research News Online)
LINKS AND FEATURES
FAQ


Here's a selection of Frequently Asked Questions. Do feel free to get in touch if your questions aren't addressed here.
View

Axe/Lynx - Case Study




We have been involved with the Axe brand since 1996.
View

Pot Noodle - Case Study




Greg Rowland Semiotics was asked to make Pot Noodle a more iconic brand.
View

Calvin Klein - Case Study




Our work was a key influence in the creation of Euphoria's concept and communications.
View

Greg's Biography





View