AGENCY
SEARCH PAGE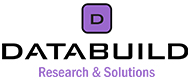 Get in touch with us...
Who to contact?
Kathryn Smith
Address:
21 Graham Street
Birmingham, West Midlands, B1 3JR
Telephone:
01216871144
Fax:
01216871155
Email:
research@data-build.co.uk
Web:
https://www.data-build.co.uk
Databuild Research and Solutions Ltd
Databuild specialises in research for government and the public sector. We help our clients understand the needs and priorities of their target audiences, to develop programmes and to evaluate the impact of their work.
Recent News:
DRNO
(Daily Research News Online)
PEOPLE AND CAREERS
Key People at Databuild Research and Solutions Ltd: