MRWho is the first supplement to DRNO, subtitled 'People and Skills in Market Research', and looking at recruitment, training, salaries and benefits, loyalty, teambuilding and all other aspects of human resources for the MR profession.
MRWho is free of charge, like the news emails, but comes in a .pdf format so you have the choice of printing it out or reading it on your screen.
The fifth edition, for July 2002, was published on 5/7 and is available for download from this site (see bottom right) - you'll need a password and for this you'll need to subscribe. If you'd like to, just email us and say so, giving us your email address (and those of anyone else there who wants it), your JobTitle(s) and the name of your company - this will only be used for our own stats, ie so we can give advertisers general information about the types of people reading it - and for our own analysis / edification. Re confidentiality of this: we are MRS members and you know the drill!
If you're not in an HR function and you think your company's personnel or training people would be interested, please let them know - there is no limit to the number of subscribers per company, of course.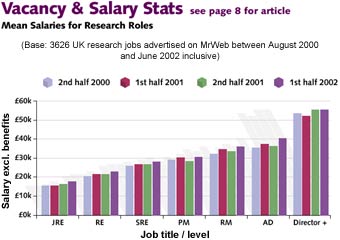 You're not From Round 'Ere - why won't researchers employ people from outside the profession - do they bite or something?
Six-monthly statistics for MR salaries as advertised on MrWeb
Careers advice from our Agony Aunt Debby Robson of Insight Resources
Information on training courses
All Over Bar The Analysis - Sports & Sponsorship researchers review the World Cup
News of senior level and international appointments and vacancies
Skills review - what makes b2b research different?


Downloadable version: enter your password below to begin downloading. Passwords are available free by emailing your name, JobTitle, Company and email address to MRWho - we guarantee these details will only be used for our own stats and for admin, eg to advise you of a change of procedure. Links to extra online features will appear here shortly


Contents / blurb for previous issues: