One Minute to Midnight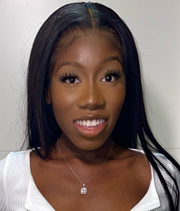 'Human insight' consultancy One Minute to Midnight has appointed Gloria Marfo as a Research Assistant in its London team.

Founded in 2016 by Paul Laver and Douglas Dunn, One Minute To Midnight (OMTM) focuses on what it calls 'the 4 Dimensions of being Human' - actions, emotions, thoughts and values - to deliver an understanding around how people feel about a brand and how they behave towards it. In 2020, the firm opened an office in New York, which is headed up by former Thinktank partner Andy Cooper.

Marfo (pictured), whose interests include sociology and analysis of human behaviour, is an alumni of 2020 Change, a youth empowerment social enterprise programme. Shems Ghali, who has been managing the recruitment process, comments: 'It's great to have Gloria joining our London team. She brings a fresh perspective, high energy and curiosity for what makes people human. Starting as a Research Assistant, we can't wait to see where her One Minute To Midnight Journey takes her and the impact she'll have in the team'.

Web site: www.oneminutetomidnight.life .