SPA and Future Thinking to Merge
In the UK, full service agency SPA has been acquired by private equity firm Next Wave Partners as part of a plan to merge it with Future Thinking, in which Next Wave holds a 60% stake.

<! pod><! pod>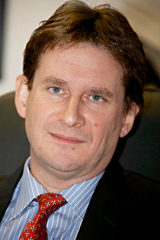 SPA and Future Thinking (formerly known as TORA) will each hold a 20% share of the newly formed agency, with Next Wave owning the remaining 60%.

Jon Priest, SPA's co-founder and Chairman, will lead the agency which will have a £13m+ turnover; an international network of offices in London, Paris, New York and Oxford; and a staff of more than 100.

While there are no plans for executive redundancies, Future Thinking CEO Chris Sinclair - who co-led TORA's management buyout in 2008 - will be leaving to 'pursue new interests'.

As part of the integration process, a single company brand will be developed with a new management board made up of SPA and Future Thinking personnel.

Priest describes the two agencies as having 'highly complementary offerings', with Oxford-headquartered Future Thinking using quant and qual methodologies to help clients launch new products, while London-based SPA focuses on post-launch brand and ad tracking services.

'By coming together we have the opportunity to create a true market research powerhouse, providing clients with a broader range of services and superb career opportunities for our people both in the UK and overseas,' Priest states.

Jonathan Brod, Partner at Next Wave, says his firm is 'delighted' to be increasing its investment in the market research industry through the purchase of SPA and its merger with Future Thinking.

'The merged group will benefit from a substantial market presence in the UK and have greater resources to provide exceptional levels of client service internationally,' he adds.

Web sites: www.spa-mr.com , www.tora.co.uk and www.nextwavepartners.co.uk .