Profits and Partnership for IHS
US information provider IHS has announced quarterly revenue up 35 percent to $560m, and EBITDA up 21.5 percent to $170m. In addition, its Automotive division, the new home of R.L.Polk, has a new partnership with consultancy Strategic Vision.

<! pod><! pod>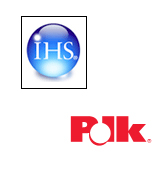 Full-year revenue rose twenty percent to $1.405bn, representing organic growth of six percent - IHS bought automotive researcher R.L. Polk in June last year for $1.4bn.

HIS, which is headquartered in Englewood, Colorado, said organic revenue growth for its subscription-based business in the quarter ending November 30th was 7 percent. President and CEO Scott Key comments: 'We are very pleased with the results we were able to deliver this quarter... We saw improving pipelines as we entered the quarter and were further helped by the realization of some deals that had slipped out of third quarter and by very strong performance at Polk.'

Full-year revenue rose 52% in the US, 9% in EMEA and 12% in APAC, and the company says it expects full-year 2014 revenue in the range $2.17 to $2.23 billion, including 6-7 percent organic growth on the subscription base; with adjusted EBITDA in the range $675m to $705m.


The automotive deal will see the two firms combining to provide OEM customers worldwide with insights into shifts in sources-of-sales performance. Polk's expertise in measuring automotive consumer loyalty market will be integrated with Strategic Vision's understanding of the values and emotions of customers, audiences and constituents.

The partners give two recent examples of applications: IHS analysis of retail transactions combined with data from Strategic Vision to help Ford better understand why customers stay loyal to its brand; while data sets from both companies helped Audi to make 'breakthrough insights' on what people love about its Conquest vehicles.

Web sites: www.ihs.com and www.strategicvision.com .