Nielsen Adds Viewability Measure to OCR
Nielsen has extended its partnership with digital ad intelligence firm Integral Ad Science for an international roll-out of viewability measurement within its Online Campaign Ratings. Separately, Nielsen has announced it will raise around $750m from a note issue, in order to reduce debt.

<! pod><! pod>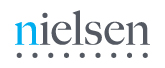 The viewability measure will now form part of the OCR offering in Australia, Brazil, Canada, France, Germany, Italy and the UK.

The firms originally teamed up in 2012 to offer the enhanced service in the US, since when Integral's approach has won MRC accreditation. OCR was launched in August 2011 and itself has approval from the ratings body. However the integrated product will need to be separately ratified, and the MRC is already reviewing it.

Both companies have been expanding their coverage in recent months - Integral opening in Germany and Singapore, and buying London-based Simplytics in February after raising $30m in funding the previous month; and Nielsen announcing that OCR will begin measuring mobile in-app campaigns later this year.

Megan Clarken, Nielsen EVP, Global Product Leader comments: 'Like Nielsen, Integral Ad Science is committed to delivering high-quality, third-party, multi-screen metrics that enable fair play in advertising. When combined, these two solutions represent the only offering in the marketplace to be MRC accredited in the US for both demo-based audience measurement and viewability...' Scott Knoll, Integral's CEO and President, says the two solutions are 'a great match for helping buyers and sellers optimize for quality and determine the true ROI-impact of their advertising campaigns across channels', and adds: 'We are thrilled be working with Nielsen to bring this same level of measurement and transparency to clients in new markets around the globe.'

Integral, whose solution generates a 'TRAQ' Score (True Advertising Quality) giving a quantifiable measure of media quality, is headquartered in New York with operations in San Francisco, Chicago, London, Tokyo, Singapore and Sydney. Web site: www.integralads.com .


Separately, in a private offering, Nielsen subsidiaries Nielsen Finance LLC and Nielsen Finance Co. have priced a $750 million aggregate principal amount of 5.0% senior notes, for offer to qualified non-US institutional buyers, due to mature in 2022. Proceeds will be used to reduce its term loan indebtedness under senior secured credit facilities, and to pay related fees and expenses.

Web site: www.nielsen.com .