YouGov Launches Media and Audience Profiling Tool
Online research specialist YouGov has launched a new media planning and audience segmentation tool called YouGov Profiles, to provide clients with a detailed portrait of their customers' lives and the products and services they use.

<! pod><! pod>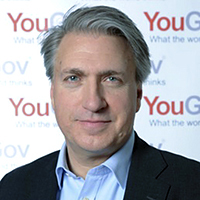 The solution combines 120,000 integrated data points from more than 200,000 of the company's most active UK panellists, to show how each interacts and engages with traditional and new media channels. Global CEO Stephan Shakespeare (pictured) claims that no other research company can boast the 'depth and richness of understanding of specific audiences' provided by the tool.

Information collected ranges from demographic and lifestyle data to consumer and brand information - such as where people shop and what type of car they own. This can be analysed against consumers' complete media consumption. In addition, the methodology collects personal attributes across more niche areas, such as musical preferences, and more abstract considerations, such as personality type.

Shakespeare comments: 'By using the 120,000 data variables we have from our panellists we can now construct a three-dimensional portrait of who they are, how they behave and what drives the way they act. This allows YouGov Profiles to already know answers to questions that competing tools have not yet asked, and gives brands crucial insights to better understand their customers and competitors.'

Web site: www.yougov.com .