Silverman and Unilever Launch Crowdoscope
London-based Silverman Research has partnered with consumer goods giant Unilever to launch a new real-time survey and discussion tool called Crowdoscope.

<! pod><! pod>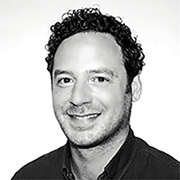 Founded in 2010, Silverman specialises in tapping into collective intelligence gathered from employees, customers and consumers using social media. Developed in partnership with Unilever, the new Crowdoscope platform provides a visual environment designed to support group interaction and extract insight. By displaying comments in a visualisation instead of a list, the firm claims its tool can help large communities navigate discussions more easily, so the most relevant comments can be quickly identified.

Founder and MD Michael Silverman (pictured) comments: 'Traditional surveys and polling are becoming outdated in our increasingly connected world. Unstructured feedback is growing in prevalence, but discussion forums that present comments in lists are not equipped to deal with large communities - they are impossible to navigate and do not ensure all posts receive equal attention. The solution is to represent discussions as interactive data visualisations so that participants are provided with a more engaging and transparent experience'.

Web site: www.silvermanresearch.com .