Keller Fay Launches 'TotalSocial for TV'
US-based word-of-mouth (WOM) research and consulting firm Keller Fay has launched a tool called 'TotalSocial for TV', tracking consumer / viewer conversations about primetime TV shows.

<! pod><! pod>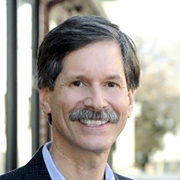 The firm, which was acquired by social media analyst Engagement Labs last year, specializes in tracking, measuring and benchmarking the impact of conversations around a brand or company, both online and off-line. The new solution provides insights about off-line conversations combined with conversations about TV shows on social media platforms; measures sentiment; and scores and compares on- and off-line conversations.

Ed Keller (pictured), CEO of Engagement Labs and the Keller Fay Group, explains: 'People watch television programs because they are recommended by friends and family, and TV is often the topic of real-time conversation on social media as well as water cooler conversation the next day. Only by measuring both can networks and advertisers understand what is driving viewer tune in and engagement. We developed TotalSocial for TV to provide the industry with a comprehensive picture of all the conversations taking place about their content, regardless of where they take place'.

Web sites: www.engagementlabs.com and www.kellerfay.com .