PlaceIQ Unveils LandMark DaaS Offer
Location intelligence firm PlaceIQ has launched a data-as-a-service capability called LandMark, offering access to its curated audience, behaviour and visualisation data gathered from billions of location-enabled mobile device actions each day.

<! pod><! pod>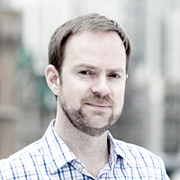 PlaceIQ's platform combines dynamic movement data with quantitative purchase data to help CPG companies better understand real-world shopping behavior and the path-to-purchase. In October, Chinese eCommerce giant Alibaba made a strategic investment in PlaceIQ, enabling the firm to scale up its services in response to demand.

The new LandMark service offers access to data from a variety of sources, including the firm's own interface or standalone files, and third-party business intelligence tools. The data can be used to inform media planning, merchandising, product development, customer segmentation and retail site selection strategies. In addition, financial services firms can use LandMark to analyse and understand real-world foot traffic, as well as behavioral trends.

CEO and co-founder Duncan McCall (pictured) comments: 'LandMark is a giant step forward for PlaceIQ because it grants users access to movement-derived insights, built from the industry's premier location dataset. The larger significance of this milestone is showing how location data can act as a horizontal business enabler, to solve for nearly any business challenge from competitive intelligence to sales forecasting to retail site selection'.

Web site: www.placeiq.com .