BrainJuicer to Become System1 Research
UK-based insight agency BrainJuicer aims to rebrand as System1 Research, forming System1 Group together with its recently-launched creative house, System1 Agency.

<! pod><! pod>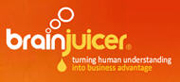 The company announced two weeks ago it would 'rebrand, unifying its MR business with its recently-launched ad agency' - making the new name something of a forgone conclusion. System-1 thinking is a phrase used by psychologist and Nobel Laureate Daniel Kahneman to describe the way consumers make most of their decisions: quickly, intuitively and emotionally. Kahneman's thinking sits at the core of the company's approach to research and advertising.

Shareholders will be asked to approve the proposed change, which the company explains thus:

Having adopted the System 1 approach to market research and successfully launched our System1 advertising agency ('System1 Agency'), we believe the company's growth will be better served by adopting the System1 name across the group. Within the System1 Group, we will have, System1 Agency to produce profitable marketing and System1 Research to predict it. As the 'System1' name becomes synonymous with 'profitable growth', the business will be in a great position to help clients move towards 5-star marketing and the exponential growth that comes with it.

The decision is a brave one, since as Lenny Murphy points out in the GreenBook blog (see below), 'BrainJuicer has been recognized as the 'Most Innovative Supplier' in the GRIT 50 list for 5 straight years; they arguably have more brand equity established than almost any other research company, and certainly more than any of the 'next gen' companies that have emerged in the past decade'. To change away from this brand is to risk this equity - we hope (and suspect) they know what they're doing and won't end up wishing they had, just this once, taken more of a System-2 decision. John Kearon makes the case for the change here.

The new web site will be at www.system1group.com , but for the time being content is still at www.brainjuicer.com . The change of name, if approved, is scheduled for April 1st, although the web site insists it is 'no joke'.