IRI Partners for TV and Digital Ad Measurement
In the US, consumer data giant IRI has partnered with television data company Alphonso, to provide advanced measurement solutions to brands looking to understand the impact of their TV and digital advertising.

<! pod><! pod>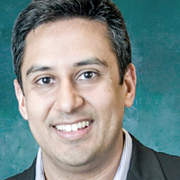 The deal integrates Alphonso's real-time TV viewing data from 34 million US households with reporting from media impact measurement solution IRI Lift. Lift integrates IRI's point-of-sale, frequent shopper, causal and media exposure data to assess the actual in-store sales-lift impact of ad spend in real-time throughout a campaign, rather than after.

The combination will enable IRI to track consumer purchases back to TV ad exposures, helping clients understand the impact of TV and combined TV/digital campaigns. Data will cover every ad airing on Alphonso's more than 200 cable and broadcast networks, including which households have been exposed to them, and pinpoint the households most likely to respond to advertising.

Nishat Mehta (pictured), President of the IRI Media Center of Excellence, comments: 'When a potential customer is interrupted by ads selling things they have no interest in, their time is being wasted. However, when an ad is precisely matched to its target market, the experience of seeing that ad is completely different. As digital ads become more relevant, Alphonso and IRI set out to understand how we could similarly improve consumers' experience with TV media. We are excited to work with Alphonso to ensure that TV ads engage consumers with information they can use'.

Web sites: www.iriworldwide.com and www.alphonso.tv .