Dub Becomes 'Further'
Online MR and technology company Dub has changed its name to Further, and rebranded its community platform IdeaStream as Together. The firm says this reflects changing market conditions and changing demands from its client base.

<! pod><! pod>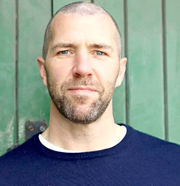 The company has offices in London and Los Angeles, and provides online research communities (MROCs) and ad hoc online qual and knowledge management solutions to market research agency clients. In December, it launched a mobile ethnography research app called Tandem, to capture respondents' in-moment thoughts and feelings. This platform offers multiple methods to frame research questions in creative ways - including capture of contextual video, picture and text-based responses from up to 50 participants - and functionality includes live chat, automatic prompts and nudges, and templated communications.

Commenting on the re-brand, CEO and founder Stephen Cribbett (pictured) explained: 'The world of online research is continuing to move fast, but it's also settling into a pattern and what clients want and expect from a partner such as Further has changed. They want more than great technology. They want to learn new ways to apply it so that they can be yet more agile. They want to build on our experiences and know how to do more than they do now as a result. They want to know how to get the best possible data and insight, that in turn will help them make the best possible decisions. So, we've repositioned and rebranded as Further, an agile research specialist that combines the best technology and the biggest brains, to help brands and organisations get closer to people and understand their behaviour'.

Web site: www.go-further.co .