MESH Brings in Dexter and Luck for Growth Advice
London-based insight and analytics company MESH Experience has brought in Andy Dexter and Kristin Luck as advisors, to help with new product development and business growth.

<! pod><! pod>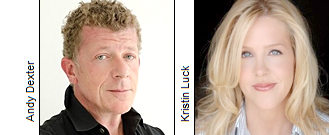 Launched in 2006 by Fiona Blades and Stephen Phillips, MESH specialises in developing new methods of research, including its core MESH Experience Tracker, which captures consumers' experiences and interactions with brands, wherever and whenever they happen. Dexter, who is the founder of Truth Consulting and Principal of innovation agency Neon & Vine, last year set up a collaborative initiative called Culturise, to help businesses and brands re-establish trust, authenticity, and social and cultural relevance. Through Culturise, he has been working with MESH, innovating and trialling new ways of looking at markets and brands through MESH's Real-time Experience Tracking datastream.

Luck, the founder of Forefront Consulting (acquired by Decipher in 2007) and OTX (acquired by Ipsos in 2010), currently runs her own 'industry growth hacking' consultancy, while leading not-for-profit membership organisation and MrWeb partner Women In Research (WIRe). She will now also focus on identifying global growth opportunities for MESH, while helping further develop the Real-Time Experience Tracking product.

Blades (who is also a WiRe advisor) commented: 'These are exciting times for MESH Experience. We are launching new ways to access Real-time Experience Tracking at a fraction of the cost and new data and metrics to enhance our datastream of experiences. Being able to draw on the expertise and experience of Andy and Kristin will prove invaluable'.

Web site: www.meshexperience.com .